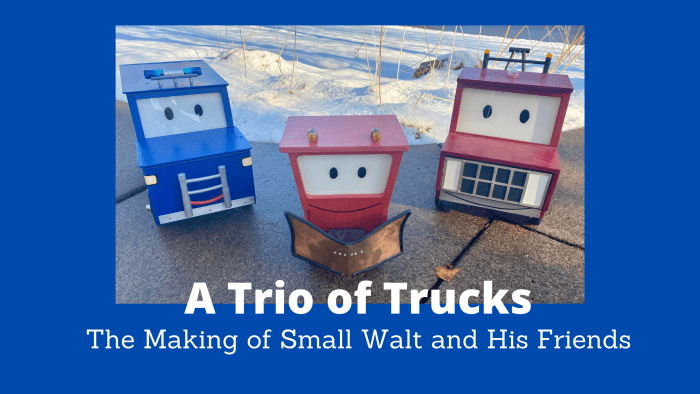 One
of the best moments as a children's book author is seeing the illustrations created by an artist who has taken your words and made them into something much bigger. When that happened for my story Small Walt, I was surprised and delighted to see Walt and his world come to life on the page (by illustrator Marc Rosenthal). Finally, my story seemed "real."
Then came other fun surprises: a trio of three-dimensional versions of Walt and his crew, thanks to a talented builder, Scott Gerry. Small Walt has grown into three books—and Scott has now built three characters from scratch in his Minneapolis garage. I wanted to write about Scott because whenever I bring my wheeled characters into bookstores or schools, people always ask "Where did you get those?"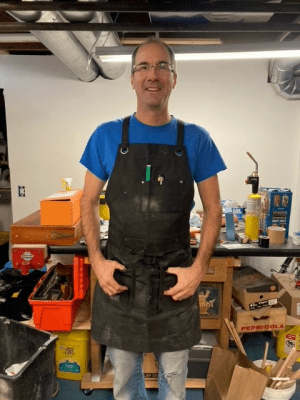 I think of Scott as someone who can make just about anything. He's a talented home builder, and he makes furniture too. As a lifelong musician, Scott does more than make music—he even makes his own guitars. When the idea of building a real-life Walt came about, we thought, "Why not Scott?" He'd never made a toy or vehicle before, but he was determined to give it a try.  
I had a few special requests: no sharp glass, no sharp edges, sturdy enough for kids to touch and play with. Scott put a lot of work into shaping Walt into something that young children could both admire and handle while they listened to me read. Walt even has working lights. He also has an especially kid-friendly finish. That reddish-orange tint is made from … Kool-Aid! Scott wanted to capture the color just right. In his words: "I like Kool-Aid, especially black-cherry flavor. I noticed it stained my fingers when making it, so I thought why not try it on staining wood? That was over 20 years ago, and I've been using it on projects ever since. Some Kool-Aid flavors work better than others; they're all inexpensive and nontoxic."
I've now spent hours watching how young children interact with 3-D Walt. They all want to push him back and forth, ride him like a bike, or just talk to him. One child asked me while peering through Walt's windshield: "Is driver Gus inside there? Let's ask him to come out."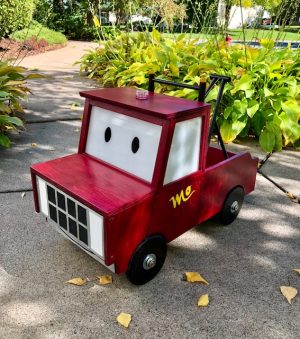 When the second Walt book (Small Walt and Mo the Tow) was published, Scott was game to try building a new character. In the story, Mo the Tow is bigger than Walt and has more mechanical features. Scott had to figure out how to make a tow truck without sharp parts because we knew kids would want to play with Mo. I asked Scott to make a towing hook that couldn't hurt little fingers and wouldn't actually detach, knowing how hands-on kids can be. Scott did all that and more, adding a flashing light on Mo's top. Scott explains it all this way: "I try to capture the character when building. I like to add metal or something real that would be on a vehicle like Mo. For instance, using cable, a hook, or lights. I think these mechanical details bring the character to life, but the most important part to me is the eyes."
I was so excited to bring Mo and Walt to my 2018 book launch at the Red Balloon Bookshop in St. Paul. The kids loved pointing out the differences in the two trucks' sizes, coloring, and faces. When I asked the audience if anyone knew what a tow truck did and how it worked, a young boy stood up and said, expertly, "A tow truck uses a really strong hook and chains that attach to the axle underneath the car that broke down. And then the tow truck driver hauls the car to a mechanic to get it fixed." That kid had sure earned the applause he got! It's almost like I'd planted him in the crowd and told him what to say, but I hadn't. That little boy confirmed something for me: kids are fascinated by vehicles. They love their speed, noise, and magic.
This past year (2020), Scott had a bigger vehicle-building challenge than before. He was making "Bea the SUV," a community-service vehicle from the most recent Walt story, Small Walt Spots Dot. Bea is bright blue and has official-looking logos on her doors. She also has flashing blue lights. And she sports one other important feature: a back area that opens to carry precious cargo—in this case, Dot, a stray dog lost on a cold winter's day. I wondered if Scott could make Bea's back-hatch open and shut. (Can he build it? Yes he can!) Bea is beautiful! Just take a look.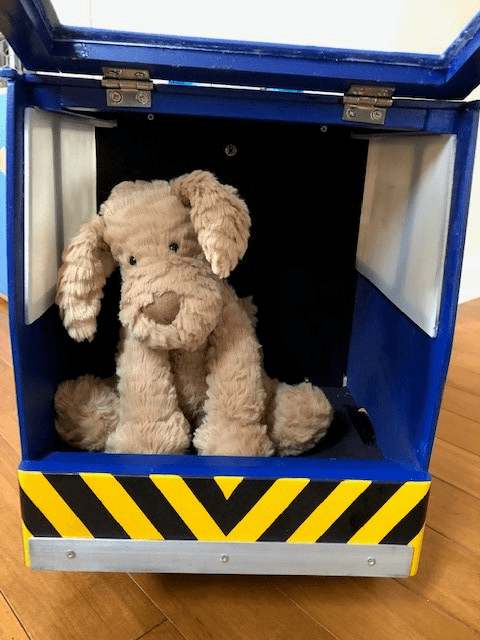 While building Bea, Scott sent me photos from his garage shop. Among his goals were to make Bea lighter and stronger than her vehicle buddies. He also had to do a lot of painting, something he taught himself on the job. All he had in the way of a guide were the illustrations in the story.
In the end, Scott sent me this note: "Bea and I have been down a long road, but she is finally ready to hang out with Walt and Mo." And, I might add, Bea is also ready to carry the dog Dot wherever she might want to go. After the pandemic, that is, when it's safe to get back on the road.