I write a mix of nonfiction and fiction for children. I'm a graduate of Carleton College (BA) and Hamline University's MFA program in Writing for Children and Young Adults, and I've taught writing classes and done manuscript critiques to help other writers with their craft.
I live in Minnesota, a state with a vibrant kid-lit community. One of my publishers is based here: Free Spirit Publishing. Before I was a writer, I was an editor of children's books.
Every book I work on is an attempt to express what's in my heart: a love for children, animals, and the natural world.

My first loves were books and cats. In my childhood photos, I'm often holding a children's book, a cat, a dog, or a stuffed animal. Paper pages and furry friends—two of my favorite things.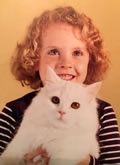 From the time I was little, I loved words, words, words. And book illustrations. I'd pore over them for hours. Today, I still do. But now it's part of my job.
Why do I write for children? Because kids are the best! I have two kids of my own—a college girl and a teenage son. They've been the source of many book ideas. (Yes, the ones about behavior.) I've written books I wished I'd had back when I was a mom of toddlers—to help little ones learn daily routines and reach developmental milestones. I even write for babies because it's never too early to read to our kids.
I also write to feel connected to the child I once was. Play … wonder… imagination: they still call out to me. So do those confusing childhood emotions like fear, sadness, anger, envy, and worry. When I was a kid, author Judy Blume was my hero—I read her books again and again. Judy Blume made me laugh and helped me navigate my feelings. I've written nonfiction books that help young people face the challenges of growing up. Some of my books use humor to let children know that everyone has problems, and you're not alone.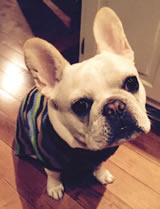 I also write fiction. Writing picture books is like creating a world of your own through words. Everywhere I look, there's inspiration: my family and friends, my pets, wildlife, weather, nature, art, and of course BOOKS.
I like to write with a furry friend beside me: cat, dog, guinea pig. I've had many animal "assistants" through the years. They remind me to be silly, get up and stretch, take walks, and put my papers away so they don't get chewed on.
Need a photo to use for an appearance or school visit? Please click on the thumbnail image next to this paragraph. That will open another window with the photo at full size (300 pixels wide). You can then download the image from there.
If you require a larger photo, please contact me.
"A childhood without books—that would be no childhood. That would be like being
shut out from the enchanted place where you can go and find the rarest kind of joy."
—Astrid Lindgren, creator of Pippi Longstocking