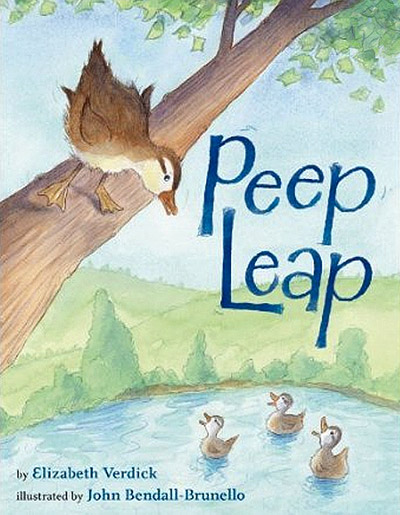 About the Book
In the hollow of a tree, higher than the eye can see … nine wood ducks hatch, one by one.
"That's good!" says Mama. "We're almost done."
One last egg is very still. Finally, the smallest egg hatches. Then it's time for all the wood ducks to make the BIG jump from the tree—where their mother made her nest—to the water below. Ducklings One through Nine make the leap. But Duckling Ten isn't so sure …
Downloadable Activities
When I visit classrooms, I point out cool facts about wood ducks: the differences in the feathers of males and females, the unusual "non-quacking" sounds wood ducks make, and how the babies are like little puffs of fluff, because their bones are still soft and their wings don't work yet. My activity sheets are reproducible so have fun doing a maze and word search, coloring feathers, and making bookmarks!
Endorsements
A hole high up in a tree trunk offers shelter for a wood-duck nest. Mama watches as nine little ducklings emerge from their eggs and, finally, the tenth one hatches. The next morning, Mama shows her babies how to glide down to the pond below. One by one, the first nine ducklings make their dives in individual ways. With a little coaxing and a countdown from his siblings, the last duckling leaps down to join his family. Colored-pencil drawings washed in watercolors create a pleasant setting for the duck characters, which are portrayed with warmth and wit. Told in short rhymed couplets, the playful story is at its best when the little birds make their daring leaps, nine with bravado and one with trepidation. Informative as well as enjoyable, this picture book offers children opportunities to join in during read-aloud sessions. An author's note gives more information about wood-duck hatchlings in the wild.
– Carolyn Phelan, Booklist, April 2013
The first line draws readers' attention to the "hollow of a tree, higher than the eye can see…" where a mother wood duck waits for her 10 ducklings to hatch. The excitement builds as the last one finally emerges from the smallest egg. "Mama glides to the ground below, into the pond" and counts as each of her offspring jumps, flops, flaps, and dives, following her lead. Scared Duckling Ten needs some extra coaching to overcome his fear of leaping. When he succeeds, he is congratulated by his siblings as they paddle about in their new home. The rhyming, counting, and repetition of "peep" make this ideal for sharing aloud. Lively watercolor and colored pencil illustrations are done in warm browns, blues, and greens, and generous white space accentuates the drama of each bold leap. An author's note that explains why this family happened to be in a tree in the first place is a welcome addition and will no doubt appeal to young naturalists. Readers will appreciate the lesson about bravery and encouragement.
– Jenna Boles, Greene County Public Library, OH for School Library Journal
Well done! What a useful children's book on the subject of duck traits themselves, not only for duck-loving readers but others. Importantly, its pages reveal through the early life of a wood duckling some of life's best practices for young readers to follow—determination, focus, persistence, and awareness, especially. Nature teaches us things, and this book is a very nice early-age primer in that regard!
– Clifton A. Brown, Executive Director, Maryland Wood Duck Initiative
Disclosure of Material Connection: Some of the links in the page above are "affiliate links." This means if you click on the link and purchase the item, I will receive an affiliate commission. I am disclosing this in accordance with the Federal Trade Commission's
16 CFR, Part 255
: "Guides Concerning the Use of Endorsements and Testimonials in Advertising."